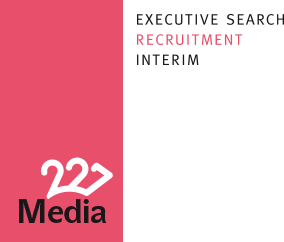 227 Media – Executive Search and Interim Management
Dienstverlening:
W&S bureau voor vast en flex
Website(s):
(Sterkste) kandidatennetwerk:
Adviseurs strategie en organisatie
Communicatie en Media
Interim Management
Marketing & Communicatie
Sales
Meeste ervaring in:
Gem. werk en denkniveau:
Beschrijving:
We work for almost all media- and entertainment companies in the Netherlands. We know the best candidates from medior to senior executive level in our business. Regular media positions (marketing/sales/creative/editing/general management), and a special focus on data- and digital positions.
Referenties (trots op):
Working for customers like Talpa Network (SBS/538), DPG Media, Mediahuis, EndemolShine, RTL, NPO, AVROTROS, KR)-NCRV, BNN-VARA, VPRO, Warner Bros, Disney/Fox, Discovery, Viacom, CBS, Ericsson, Pathé, etc.
We are official HR partner of Broadcast Magazine http://broadcastmagazine.nl/